YEAR END WINNERS from 2017 as chosen by Judge John Nation
Congratulations to all! Please select an image below to preview in full.
1st Column – Color Prints
2nd Column – Digitally Submitted
3rd Column – Monochrome Prints
4th Column – Novice Prints
PHOTO BOOK COMPETITION

2017 WINNERS

as chosen by Patrick Phister.
---
ANNUAL AWARDS FOR MOST POINTS EARNED DURING THE YEAR
(Point Award System: 12 Points for 1st, 8 for 2nd, 5 for 3rd, 2 for Honorable Mention)
| | | | |
| --- | --- | --- | --- |
| DIGITALLY SUBMITTED | COLOR PRINTS | MONOCHROME PRINTS | NOVICE DIVISION |
| FIRST | FIRST | FIRST | FIRST |
| Greg Miller (80 points) | Greg Miller (39 points) | Deborah Brownstein (40 points) | Carolyn Hawkins (102 points) |
| SECOND | SECOND | SECOND | SECOND |
| Christine Hayden (57 points) | George Sherrard (35 points) | Greg Miller (35 points) | Anita Doster (54 points) |
| THIRD | THIRD | THIRD | THIRD |
| Steve Hamilton (30 points) | Christine Hayden (27 points) | tie – Kay Sherrard and David Kelm (32 points) | Eric Baker (44 points) |
OUR WINNERS: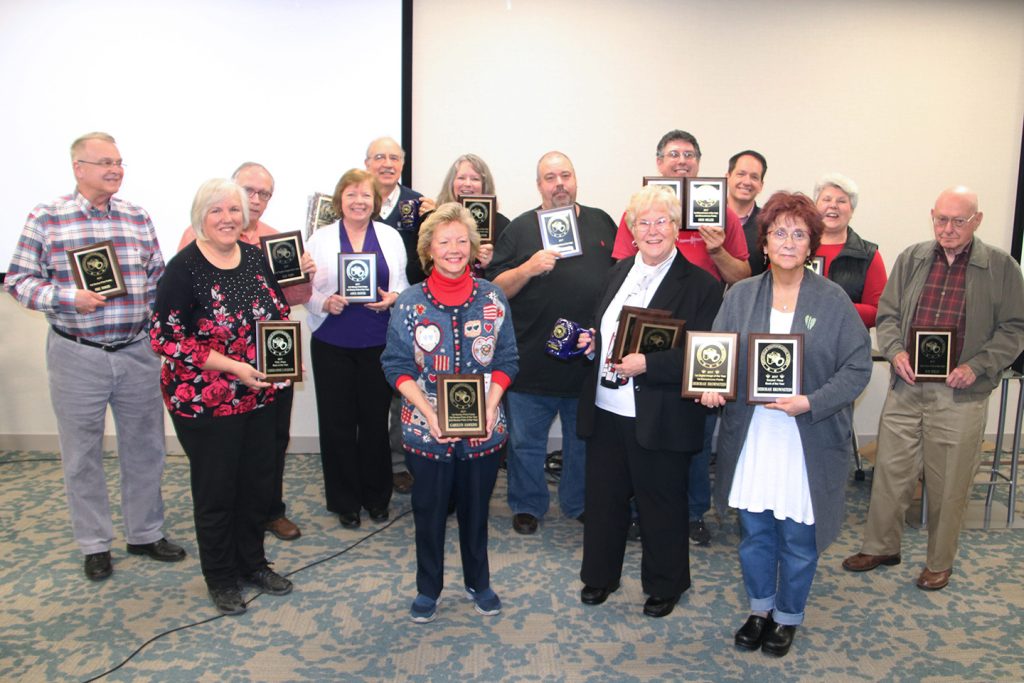 LPS Winners Pictured Above:
Back Row: Eric Baker, Ken Tripp, George Sherrard, Stephanie Turner, Steve Cowherd,
Greg Miller, David Kelm, Eileen Strenecki, Bob Wells
Front Row: Leith Anne Logdson, ANita Doster, Carolyn Hawkins. Kay Sherrard, Deborah Brownstein
Ken Tripp, Paul Schmetzer
Absent from Photo: Byron Butler, Kevin Laundroche, Steve Hamilton, Christine & Chad Hayden
——————————————————————————————————–